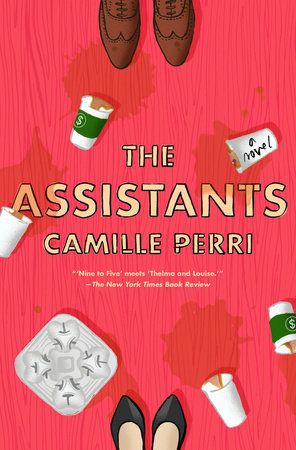 Title: The Assistants
Author: Camille Perri
Genre: Literature & Fiction, Satire
Pages: 282
My Rating: 2 stars

Tina Fontana has spent the last six years as the assistant to one of the most rich and powerful men in New York. She didn't get her college degree (and build up thousands of dollars of student loan debt) to be fixing drinks and taking memos for a billionaire, but here she is. Watching her boss drop tens of thousands of dollars on an exotic fish for his beach house's fish tank is something Tina finds herself witnessing often. When an accounting error with an expense report results in Tina getting a check for nearly $20,000, she knows she has to give the money back. $20,000 is like a drop of water in the money sea for her boss, and it would be just enough to pay off Tina's student loans completely. Something like this could change her life forever.
This book didn't impress me in terms of writing and story-line, although it was funny and did a good job of keeping me entertained. The plot was a little far-fetched, but the basic  plot-line was also a scenario that I have fantasized about happening to me in real life, so it was fun to read a take on how everything would play out. Unfortunately I'm an at least semi-responsible adult and would freak out if this ever happened and immediately give the money back- how would this ever end well in reality?? I will say that most things in real life don't come out as neat and tied-up-in-a-bow as this story did.
The characters were pretty basic and I don't think there was enough time put into getting to know them as individuals. This book was heavily lacking in descriptive writing and was bordering on bland.
I would recommend this book if you have a few hours to kill and want something light that you don't have to pay too much attention to. It read almost like a sitcom and could have probably been made into a 45 minute TV show if it was ever adapted to the screen. There is nothing wrong with that! Just don't go into this expecting some deep read. I liked and related to the main character a little, and although I can only see myself reading this book once, I still don't regret having read it.