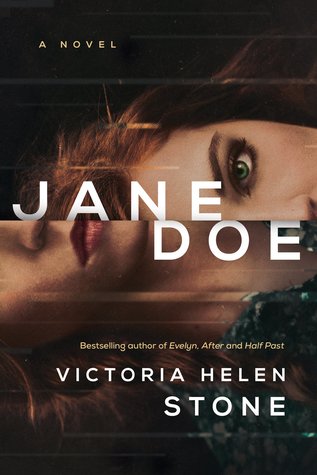 Title: Jane Doe
Author: Victoria Helen Stone
Genre: Thriller, Mystery
Pages: 267
My Rating: 5 stars

"This relationship will be tedious and nearly unbearable,
but the end will justify the means.
Maybe I'll destroy his family. Maybe I'll set him up for embezzlement.
Maybe I'll kill him.
I'll find what's most important to him and then I'll take it away.
However that plays out is fine with me."
Jane is a self-diagnosed sociopath, and while she does care about some things, she's always had to work hard to fit in and seem like a "normal" person. The only person who she felt a real connection with was wronged, very badly, by an evil man, and Jane has decided to take revenge. The story is told from her point of view, and her tell it like it is attitude and frank assessment of everything around her was entertaining and added some dark humor to the story.
As a reader, we know that Jane is smart and put together, so it's fun watching her play the part and try to seem less than she is when she's interacting with Steven. From the beginning you want her to win, and you want her to succeed at her plan for revenge. Jane has a knack for observing and understanding the people around her on a base level, and I loved all her analyses of everyone she interacted with, whether it was the older drunk man at the bar trying to hit on her, or the stuck up women playing good at church and flaunting her expensive Louis Vuitton.
The pace moves quickly and it's easy to fly through the book; I read the whole thing in one day. It's definitely addictive and you probably will find yourself not wanting to take a break or put the book down. Jane's whole mission is to get back at the man that hurt her friend, but the reader has no idea what her final plan is going to be. She doesn't seem to think about how her actions could hurt others and how she could end up causing collateral damage. Jane had her real identity and her fake one, and there was a constant tension that she was going to be found out and that her whole plan would backfire.

"Don't believe the movies about us.
Being a sociopath doesn't automatically make someone a genius at killing.
I'm learning on the job here."

My only complaint is that the build-up took a little too long, and the fallout was over way too fast. Steven was an asshole and I loved seeing Jane mess with him, but I wanted to see more of the after effects. I also would have liked to see a bit more of Jane being happy and spending time with Luke! Her time at the zoo and interactions with her cat were some of my favorite parts of the book- even if she never did give her cat a name!
I know I keep mentioning revenge and plans, but this book is also more than that. It's about loss and trauma, and learning how to cope with the bad things that may happen in your life or while you were growing up. Jane may have a hard time figuring out her own feelings, and she may not think she has a soul, but she has to navigate everything that happens to her the same as everyone else. Overall a quick and entertaining read that had interesting characters, lots of dark humor, and plenty of revenge.