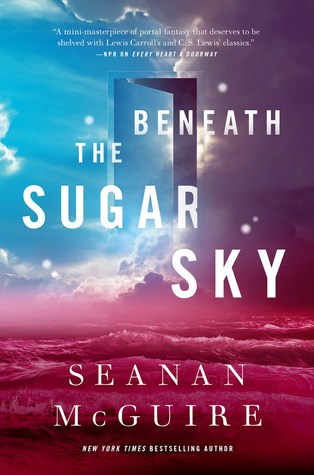 Title: Beneath the Sugar Sky
Author: Seanan McGuire
Genre: Fantasy, Young Adult
Pages: 174
My Rating: 3 stars

"Sugar, flour, and cinnamon won't make a house a home,
So bake your walls of gingerbread and sweeten them with bone.
Eggs and milk and whipping cream, butter in the churn,
Bake our queen a castle in the hopes that she'll return."
I've come to the conclusion that the point of each of these books is to push a message. Which would be fine, they're good messages, but I didn't go into this looking to be taught a lesson. I wanted whimsical fantasy and magical worlds, but what I got was an author making a statement and thinly veiling it as a fairytale. I think what drew me to these books was the idea of what they could be, and not the reality of what they ended up being as I read them. The fact that each story is different and focuses on different characters/timelines is probably what kept me reading, in hopes that it would finally pay off and I would get the story I was chasing. But three books in, I'm realizing that it has become a trend for the narrative to be more about a message than it is about good storytelling. The crazy thing is that the beautiful covers, beautiful prose, and enticing concepts are probably enough to keep me reading the series.
Pros:
– a sea of strawberry rhubarb soda, eels made of saltwater taffy, a castle made out of baked goods
– some follow up on characters from Every Heart a Doorway
Cons:
– too much of the author trying to teach a lesson and not enough whimsy and fantasy
"We're teenagers in a magical land following a dead girl and a disappearing girl into a field of organic, pesticide-free candy corn," said Kade. "I think weird is a totally reasonable response to the situation. We're whistling through the graveyard to keep ourselves from totally losing our shit."
Cora is overweight; she's used to everyone shaming her for it. She was a mermaid in the world she visited, and her body was praised it's survivability in the water, so she's hating being back in the "real" world. Cora recently arrived at Eleanor West's Home for Wayward Children, and is slowly realizing that these children aren't like the ones she's used to being around. They don't bring up her weight or seem to treat her any differently based on what she looks like.
It seems like Cora is the only one obsessed with now thin or fat everyone is, and she mentions something about weight in almost every scene. Her weight has been a big part of her life, but c'mon, can we get to the story? Or I guess weight is Cora and the Queen's obsession apparently, because of course it all came back to a plan revolving around Cora manipulating how people saw her because of her extra weight.
I liked getting to catch up with the characters from Every Heart a Doorway and seeing what happened after the events of that book. A lot has changed since the events of the first book, and it was fun seeing what everyone is up to now. I really don't know if I will be continuing with the series from here.