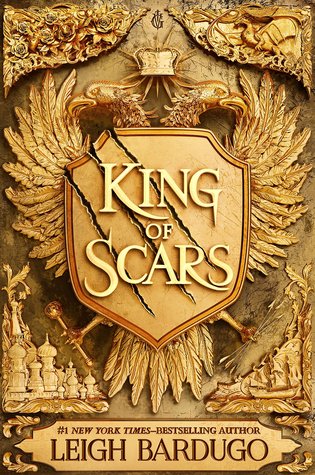 Title: King of Scars
Author: Leigh Bardugo
Genre: Fantasy, Young Adult
Pages: 527
My Rating: 4 stars

The end of this book killed me! Everything was slow to start, but no punches were held towards the end, and it is going to be a painful wait to find out what happens next.
Nikolai was one of my favorite characters from the Grisha books, and Nina was one of my favorites from Six of Crows, so it was super exciting to have them both be featured in this book. There were a ton of familiar characters brought back into the story from the Grisha times, and getting to see what they were all up to in a future setting was really satisfying. When I finished reading Six of Crows, I was upset that we didn't get more closure in Nina's story, but this book gave us way more information and followed her story from where it left off. (Nina is my spirit animal and how fun would it be to hangout and eat a pile of of waffles with her?!) If you haven't read the Grisha series or the Six of Crows duology, definitely read those before you start King of Scars. The story follows the "after" of those two books, and there will be a ton of series spoilers, plus you'll probably be lost in general with all the references. We all knew Ravka would face struggles after the war with the Darkling, but there were lasting repercussions that no one could have ever imagined, and now it's up to everyone that's left to try and give the country, and the people they love, any shot at a hopeful future.
"I think I can fix it," he said at last.  "I've always known Ravka is broken,
and I've seen the way it breaks people in return. The wars never cease.
The trouble never stops. But I can't help believing that somehow,
I'll find a way to outsmart all of the kings
who came before and set this country right."
He shook his head and laughed. "It is the height of arrogance."
Pros:
– familiar cast of characters (from the Grisha books and from Six of Crows)
– history on Nikolai, a combination and continuation of the other Grisha/Crows stories
– statues that bleed obsidian, an earthquake that released thousands of silver hummingbirds, a bridge made of bone, a fire breathing dragon
– witty dialog, plenty of new surprises, Nikolai's signature charm, moments that will make you laugh and moments that will bring tears to your eyes
"Eat, Your Highness."
"Everything tastes like doom," he whispered.
"Then add salt."
Cons:
– slow to get going, nothing much happened until at least halfway through
– the alternating storylines made the narrative choppy
As much as I hate to admit it, I found my mind wandering from time to time. There wasn't enough action, and it took a while for anything major to happen. The first half of the book- and this is a very long book- was taken up with lots of descriptions of planning and what the state of the world was. Basically, it was a bunch of set up. Which was fun at times (getting to catch up with familiar faces), but could get tiring at others (pages of writing letters to troops or descriptions of traveling); I was dying for the pace to pick up! There was also the fact that there were two separate stories going on at once, so you'd just be getting into one, and it would switch chapters and perspectives and throw you right back into the other story. It really hurt the pacing in my opinion, and the stories were so separate that I don't think it would have been a bad idea to publish them as separate books. Thankfully everything started to get really interesting around the halfway mark, the pace picked up, and you could feel that familiar Leigh Bardugo storytelling magic for the remainder of the pages.
"Nikolai had been told hope was dangerous, had been warned of it many times.
But he'd never believed that. Hope was the wind that came from nowhere to fill your sails and carry you home."
I always loved Nikolai and his cleverness and ability to think on his feet and wing it in pretty much every situation, and in King of Scars we got to find out what made him that way. We learned about his upbringing and what got him to the point of being Sturmhund and wanting to be king of Ravka. We also get more insight into Zoya, her childhood, and how she became the person she is now. There are plans that go right, plans that go wrong, and familiar evils hanging over everything. I'm really excited for the second installment in the series; it felt like this book was mostly laying groundwork, and now that that's out of the way we're free and clear for some craziness to happen!