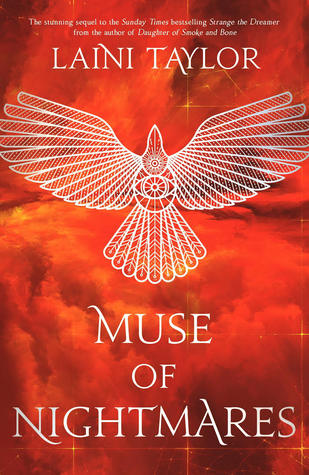 Title: Muse of Nightmare
Author: Laini Taylor
Genre: Fantasy, Young Adult, Romance
Pages: 522
My Rating: 5 stars

"Once upon a time there was a silence that dreamed of becoming a song,
and then I found you, and now everything is music."
It's been a long time since a novel has evoked as many feelings in me as this one did! There is such tension in this book, and the author paints a rollercoaster of emotion. Just when you can see a light at the end of the tunnel and think that things might be looking up, it all comes crashing down and another revelation is made that brings everything right back where it was. Each saving grace is a possible red herring and you can never be sure what actions will bring the characters closer to salvation, and what will make them tumble back into despair. Laini Taylor is the queen of getting her characters into situations that I'm never able to see an easy way out of, and the events of Muse of Nightmares were no exception to this rule.
Pros:
– a tea break from the end of the world, magical gardens and walking on clouds, flying metal dragons, a ragged little girl with beetle shell eyes trailing an army of ghosts
– unique chapter titles, the same beautiful prose as Strange the Dreamer, tense scenes and completely unpredictable moments
– Daughter of Smoke and Bone references!
Cons:
– none!

"kåzheyul (kah·zhay·ul) noun; The helpless feeling that one can not escape one's fate."
I really enjoyed the overlay of the concepts from Daughter of Smoke and Bone and how they played a part in this novel. I won't post any spoilers, but it was fun to see some elements from one of my favorite series in this one, and to see how Laini used the mythology in a different way here. Once all of these revelations were made, things started to get really intense. I swear the second half of this book gave me a few grey hairs as I was reading it- it was so stressful and suspenseful! Things were happening one after another, and the situation was so volatile that you had no idea what was going to happen next.
"This was not the world as Lazlo had known it, outside his books of fairy tales. This was a place where moths were magic and gods were real, and angels had burned demons on a pyre the size of a moon. Here, death was not the end."
Something that Laini Taylor did in the Daughter of Smoke and Bone trilogy, and again does in this duology, is to introduce a second/parallel narrative into the story towards the end. In Daughter of Smoke and Bone, it was Eliza's story, and in Muse of Nightmares it's Kora and Nova. And while these stories eventually tie into everything that has happened so far, each time I had trouble getting into the new story and caring about the new characters at first. In each case I eventually got on board with it, but adding a new narrative after we've become invested in the original one can really mess up the flow for me, because I usually find it hard to care much about these new additions. As always, though, the revelations when each story meets with the other makes the previous complaints not matter as much; they come together in such a magnificent way that it makes up for any reservations I had.
Overall, this series exceeded my expectations and I'm positive that I'll be revisiting it in the future to experience the story again. It also left me super hopeful that we might be getting more stories from Laini Taylor based in this universe, and I am SO here for that! If you haven't read the Daughter of Smoke and Bone series, I highly encourage you to do so, and then come right back and read this one over again!