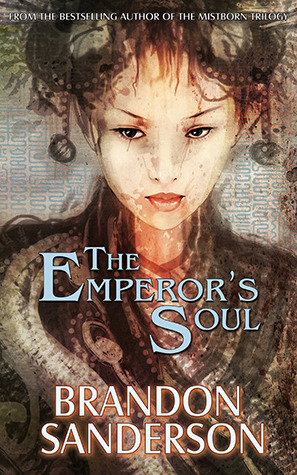 Title: The Emperor's Soul
Author: Brandon Sanderson
Genre: Fantasy, Novella
Pages: 175
My Rating: 5 stars

"Each person was a puzzle.
That was how Tao, her first trainer in Forgery, had explained it.
A Forger wasn't a simple scam artist or trickster.
A Forger was an artist who painted with human perception."
I'd definitely recommend picking up The Emperor's Soul if you're in a reading slump; it's super short, but packs a punch with an impressively fleshed out story for such few pages. I flew through it, and it helped me get out of the reading rut that I was in after one too many lengthy novels. Shai is a Forger, which means that she can recreate/duplicate things using magic. Shai has been sentenced to die for her crime of trying to forge the royal scepter, but when the rulers of the empire realize that her powers might be the only thing able to keep the current ruling dynasty in power, she's given an option to use her skills in exchange for her life.
Pros:
– quick read that is easy to fly through
– lots of world building/impressive character development (for such a short book)
– a really interesting magic system
I was super impressed with how much world building and character depth we were given in such a short book. The important details were presented in an easy manner, and there was no instance of info-dumping or dense explanations. Shai is a character that I found myself liking right away; she may not be the most honest person, but she's got a sharp wit and a clever head on her shoulders. She undergoes an impressive transformation of her desires and motivations throughout this short novella. The concept of magical forgery and the rules of magic in this universe was very interesting, and there was so much potential for different ways in which the magic could be used. Shai's explanations of all the different factors that mattered when it came to puzzling out the creation of a forgery was super interesting, and I appreciated the idea of everything remembering what/who it is and having a basic sense of self. Shai had to figure out every single detail of this sense of self in order to make a successful forgery, and it was fun watching her do it on things ranging from a cell wall to the emperor's soul itself.
The book almost exclusively takes place in one room, but the story progression and use of magic kept things interesting. There was a bit of tension throughout the book that you were never quite able to forget about, and Shai was an interesting character to observe as she tried not only to figure out the emperor, but also to figure out everyone around her in an effort to plan an escape. My only complaint with this book is that I wish it was longer and that I could have seen more of this world, but from what I've heard a lot of Sanderson's books take place in the same universe, so I will definitely be checking out other books by this author!