This month had a lot of ups and downs for me when it came to my reading choices. A friend convinced me to FINALLY pick up and start the Harry Potter series, because somehow I missed ever reading these books (!?), and obviously I'm loving it. Unfortunately, Finale ended up being a huge disappointment and didn't meet my expectations, and even though it was still pretty enjoyable to read, I ended up being underwhelmed by the whole thing.
NEW BOOKS:
5/5 ⋆
Ace of Shades
Harry Potter and the Chamber of Secrets
4/5 ⋆
King of Fools
Harry Potter and the Sorcerer's Stone
3/5 ⋆
Finale
I ended up DNFing The Culling Trials at about 40%, so I won't rate it, but damn that book was just not for me. Goodreads review here.
REREADS:

5/5 ⋆
Heir of Fire
Caraval
Legendary
Queen of Shadows
JUNE TBR:
June 4th is a very popular release date this year, and I have four books that I'm looking forward to coming out on that day alone! So I'm going to do a super long TBR and include way more books than usual…
Release Date: June 4, 2019 | Book 2 in the Rime Chronicles Duology
The first book in this series, Onyx & Ivory, was a great read and had a number of fresh elements that kept me interested. I'll probably do a reread of Onyx & Ivory and then fly right into this one! The magic system is fun, there's all kinds of scary monsters, and the MCs are strong and likeable. I'm looking forward to enjoying the first book again, and finding out how this series ends.
Release Date: June 4, 2019 | Book 1 in The Beholder Series
Ocean adventures! The MC, Selah, sounds like someone I'll like right off the bat, and the description sounds like something right up my alley. "Selah must set sail across the Atlantic, where a series of potential suitors awaits—and if she doesn't come home engaged, she shouldn't come home at all. From English castle gardens to the fjords of Norge, and under the eye of the dreaded Imperiya Yotne, Selah's quest will be the journey of a lifetime." Sign me up!
Release Date: June 4, 2019 | Standalone
It seems like this book it getting a lot of attention, I feel like I've seen it all over the place, and I really really hope it lives up to the hype. The MC is a private investigator that has magic and a drinking habit, and it almost sounds a bit Jessica Jones-esque to me, which is something I know I'll enjoy! It's a standalone, and definitely seems like a book I could fly right through.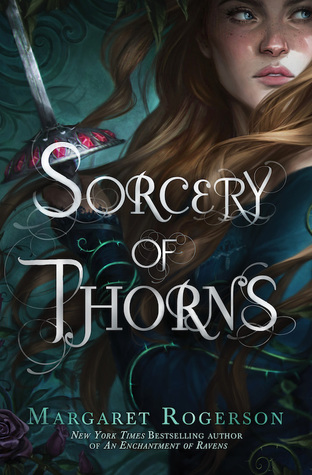 Release Date: June 4, 2019 | Book 1 in the Sorcery of Thorns Series
This book is about magical grimoires that can transform into inky monsters and the librarians that keep them contained. There's obviously much more going on than that, but this premise alone is enough to snag my interest! I'm not 100% that this is a series and not a standalone, but from the description and from how epic it seems like this story will be, I'm going to guess that we're in for a longer ride than just this installment.
Release Date: June 11, 2019 | Standalone
Asian fantasy! Mechanical dragons, arranged marriages, a magical pearl… the initial reviews don't look super great, but this is definitely one I'm going to pick up! I'm always down for a fantasy with steampunk elements, and this book seems like it will have that- plus much, much more.
Release Date: June 25, 2019 | Book 2 in the Shadow of the Fox Series
Shadow of the Fox has been on my TBR for a while now, and I'm going to prioritize it now that another book in the series is coming out. I've only heard good things about Shadow of the Fox, and I'm looking forward to getting into these books and this world.
What did you read this month? What new books are you looking forward to in June? Tell me in the comments!